EquiLend's Direct Lending Solution enables beneficial owners to manage their own securities lending programs in-house.


For beneficial owners new to securities lending or those interested in lending directly to the market or with peers, EquiLend's Direct Lending Solution offers a complete, front-to-back securities lending system.
The solution includes securities lending books and records, regulatory compliance services, a trade execution platform and post-trade reconciliation technology. Direct access to Swaptimization, the total return swap optimization engine, and NGT, the securities lending trading platform for more than 120 global counterparties, is included for beneficial owners ready to trade their own book.
Direct Lending Solution Components:
EquiLend Spire
• Power your whole lending business from one centralized books & records platform, integrated seamlessly with all your systems & vendors
EquiLend Trading
• Trade directly with over 120 counterparties—including peers—on the biggest trading platform in the market, NGT
• Optimize your total return swaps activity with Swaptimization
• Easily recall securities for voting or other purposes with included Recalls solution
EquiLend Post Trade
• Automate your operational activities with efficient solutions for comparisons and marks to market
ALD
• Handle your mandatory Agency Lending Disclosure requirements with one simple, integrated solution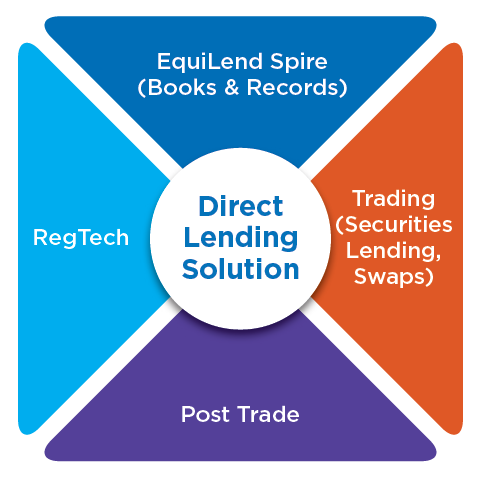 Benefits
Enable efficient use of assets
Supports Hybrid Models
Alternative Distribution Channel
Visibility and Control
Cost Effective
Additional
RegTech
Solutions
Additional
Spire
Components
Seamless interconnectivity to the entire EquiLend ecosystem of solutions allows beneficial owners to maintain increased governance and control, transparency and cost efficiencies across their lending book.