EquiLend: Your Ultimate Solution for Central Securities Depositories Regulation (CSDR)
Firms with EU-based trading desks must be compliant within CSDR from February 2022.
EquiLend's interconnected solutions service the full trade lifecycle.
View, trade, manage and monitor your positions, exposure, settlement and inventory, centrally.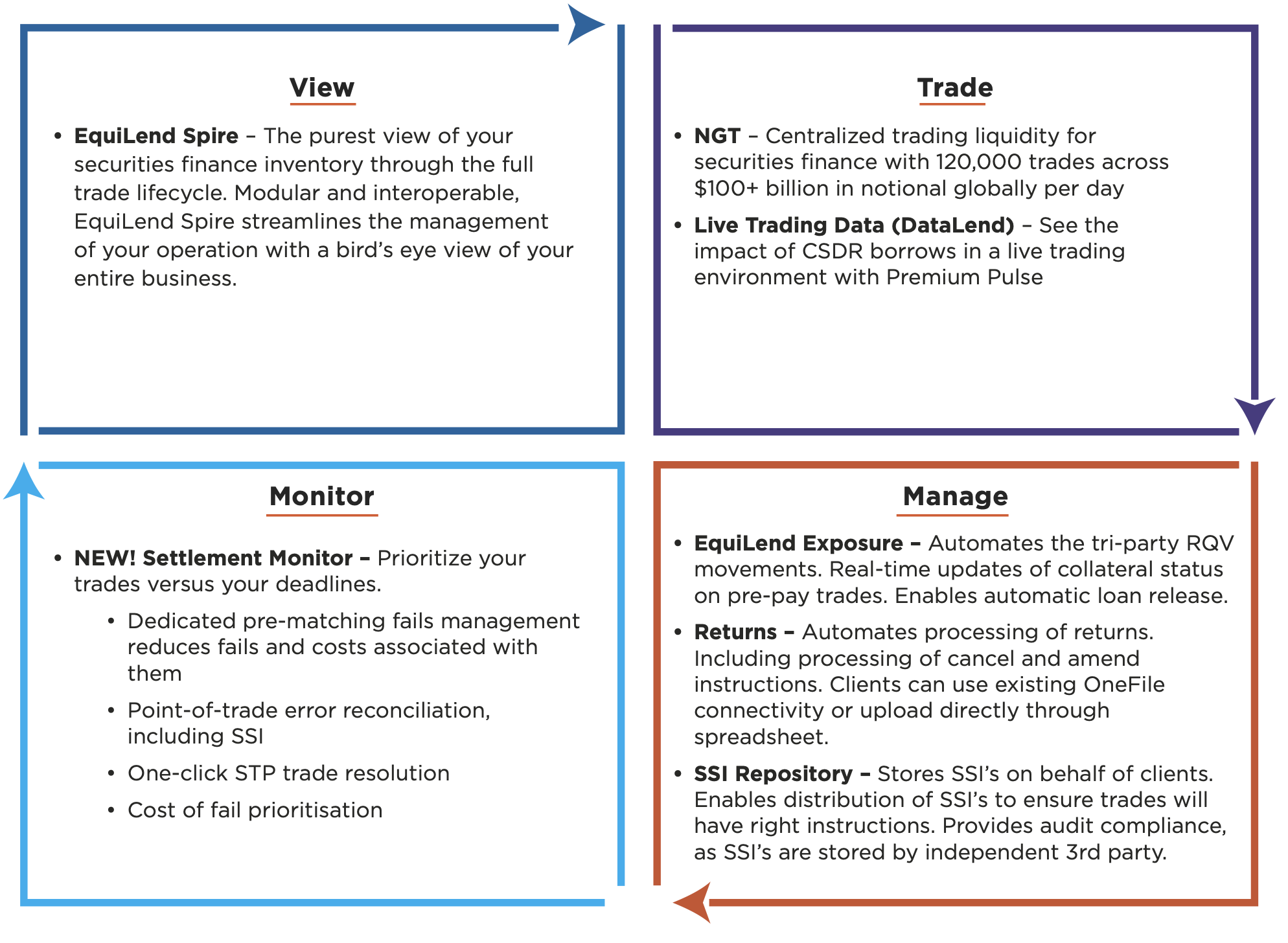 The purest view of your securities finance inventory thorough the full trade lifecycle.
Modular and interoperable, EquiLend Spire streamlines the management of your operation with a birds eye view of your business. 
Firms with EU-based trading desks must be compliant within CSDR from February 2022.
Centralized trading liquidity for securities finance with 120,000 trades across $100+ billion notional globally every day.
NGT supports LEI processing

,

 and clients can also confirm SSI instructions

 at 

the 

point of booking.

 

Live Trading Data (DataLend) – See the impact of CSDR borrows in a live trading environment with EquiLend Real-Time Data
Currently, over 60% of the current daily trade flow is conducted on EquiLend's flagship product. NGT enables complete STP at trade booking, and EquiLend research shows that less than 1% of trades booked on NGT have trade booking errors. 
With an increase in same-day activity to support CSDR, EquiLend Exposure enables better automated booking and timely distribution of collateral.
Automates the Tri-Party RQV movements 

Real-time updates of collateral status on pre-pay trades 

Enables automatic loan release
Our Post Trade services include Returns and Recalls: 
Automated processing of returns, including processing of cancel and amend instructions 
Clients can use existing OneFile connectivity or upload directly through spreadsheet 
Remove inaccurate Settlement Instructions as a potential cause for fails with our SSI Repository functionality.  
Stores SSI's on behalf of clients
Enables distribution of SSI's to ensure trades will have right instructions
Provides audit compliance, as SSI's are stored by independent 3rdparty
Read our CSDR Series
Our 5-part EquiLend Insights series focusses on the core industry CSDR concerns, as reported by our client community.
Prioritize your trades versus your deadlines. 
EquiLend's Settlement Monitor, a pre-matching tool, enables firms to keep track of trades with up-to-date trade status. 
Dedicated pre-matching fails management reduces fails and costs associated with them 
Point of Trade error reconciliation, including SSI
One click trade STP resolution 
Cost of fail prioritisation 
Settlement Monitor ensures that all aspects of the booking are correct, monitors the collateral movements associated with the trade, helps firms to prioritize exceptions and and provides settlement deadlines across each of the different settlement markets within the EU. 

EquiLend's suite of solutions offer consolidated risk mitigation relevant to CSDR, including:
Market risk – Reduces fails by reconciling trade bookings and enabling liquidity flow
Reputational risk – Increases settlement rates and enables increase in additional business flows
Operational risk – Increases STP process, with the succinct UI clearly identifying issues and providing resolutions, which clients can automatically amend
Costs risk – Reduces fines and provides clear audit trail
Many of our solutions can be added to your existing EquiLend product agreement, requiring no lengthy onboarding. 
The EquiLend SFTR Solution​