INTRODUCING EQUILEND SPIRE:
Flexible, Modular, Customizable—A Bespoke Technology Solution For All Your Securities Finance Business Needs.
EquiLend Spire is a state-of-the-art platform and technology-driven hub for securities finance firms of all types, including agent lenders, prime brokers, retail brokers, beneficial owners and collateral managers. Managing your securities finance business has never been more efficient.
Consolidate disparate systems by adopting our comprehensive, full-service offering covering the front, middle and back office. Or, choose one or more modules that complement and are interoperable with your existing technology. EquiLend Spire streamlines the management of your operation with a bird's eye view of your entire business.
EquiLend Spire ties in seamlessly with EquiLend platforms including NGT (trading), PTS (post-trade), DataLend (market data), EquiLend Clearing Services and a variety of other systems, market infrastructures and vendors across the industry. Use the EquiLend Spire interface or link the platform to your proprietary system for a powerful engine allowing you to drive your business from one central hub.
EquiLend Spire allows users to leverage an industry-leading financing platform with EquiLend's many automated trading and post-trade services to optimize and efficiently process inventory management, cash and non-cash collateral, trade distribution through electronic trading algos and trading desk P&Ls—all with enhanced management and client reporting.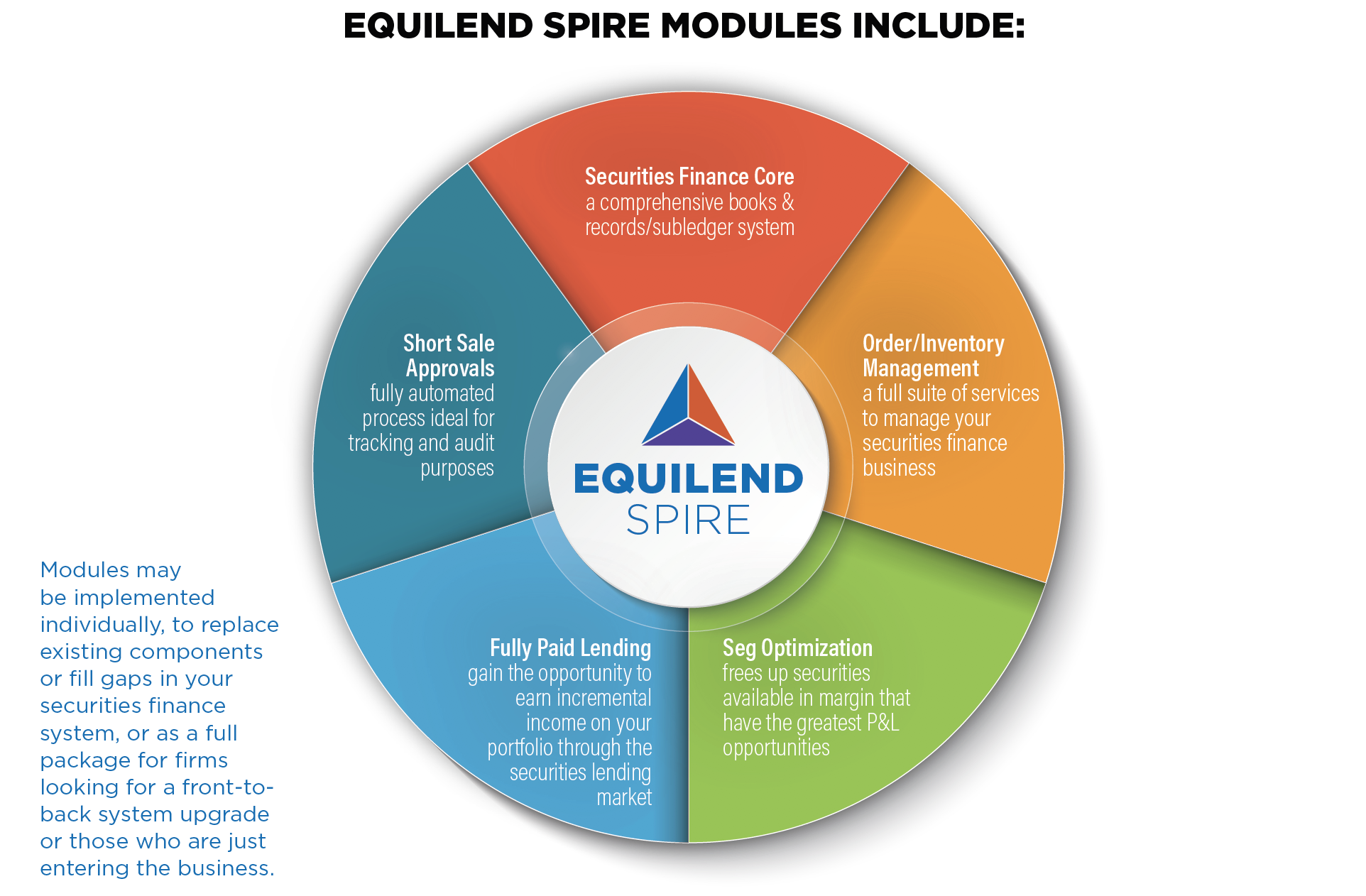 MODULE 1: SECURITIES FINANCE CORE
– A COMPREHENSIVE BOOKS & RECORDS/SUBLEDGER SYSTEM –
MODULE 2: ORDER/INVENTORY MANAGEMENT
– A FULL SUITE OF SERVICES TO MANAGE YOUR SECURITIES FINANCE BUSINESS –
EquiLend Spire offers clients a full suite of services to manage their securities finance business. Our comprehensive and customizable Order/Inventory Management module can fit all your needs in one platform. 
In addition, EquiLend Spire will monitor restrictions on the "interconnectivity" of larger financial institutions to help promote greater transparency.
MODULE 3: SEG OPTIMIZATION
– FREES UP SECURITIES AVAILABLE IN MARGIN THAT HAVE THE GREATEST P&L OPPORTUNITIES –
Performs daily root cause analysis of delivery deficits and prompts steps needed to bring securities into possession or control for any Possession or Control violations created
Executes daily analysis of actionable items required under Possession or Control. These items include fail to receive, stock loans, stock dividends, bank loans, customer shorts and firm inventory shorts that cause deficit
Through daily reviews of segregation calculations, EquiLend Spire directs Seg Optimization system calculations, stock borrow/stock loan recommendations and conduit borrows and loans
Ensures that control locations have proper documentation such as custodial agreements, clearing agreements, acknowledgement letters, etc.
Through daily analysis and leveraging DataLend data, EquiLend Spire looks to free up securities available in margin that have the greatest P&L opportunities
MODULE 4: FULLY PAID LENDING
– GAIN THE OPPORTUNITY TO EARN INCREMENTAL INCOME ON YOUR PORTFOLIO THROUGH THE SECURITIES LENDING MARKET –
Through EquiLend Spire's Fully Paid Lending module, you can borrow certain fully paid for excess-margin securities that other firms desire to borrow. In return, you gain the opportunity to earn incremental income on your portfolio through the securities lending market
Your customer maintains full economic ownership of the securities on loan and may sell the securities or recall the loan at any time
Automatically deposits monthly income payments into your client's brokerage account, and your portion will be directed to your firm
Calculates and tracks the collateral received for your loans
Allows you to easily monitor the number of shares on loan and loan values by client, investment professionals or office range
Allows your customers to view their securities on loan and income payments on their account statements through a direct-access client portal
Customizable to meet the needs of your FPL program
MODULE 5: SHORT SALE APPROVALS
– FULLY AUTOMATED PROCESS IDEAL FOR TRACKING AND AUDIT PURPOSES –
White-label client portal for direct client access and efficient processing
Logic to provide quick response and turnaround of locate request
Link the short sale to the locate
Aggregate availability from both internal and external supplies
Approve request, respond to client, provide reference number and decrement availability
Easily scalable to support multiple requests or indications of interest (IOI) through an approval gateway
WHO WE ARE
EquiLend is a global financial technology firm offering trading, post-trade, market data, regulatory and clearing services for the securities finance, collateral and swaps industries. EquiLend has offices in New York, Toronto, London, Dublin, Hong Kong and Tokyo.